What does the Iron Palm course consist of?
The course consists of Chinese herbs, and instructions to mix the herbs into a medicine.  Included is an illustrated booklet with descriptions of the striking techniques and use of the herbal medicine.  You then following the instructions in the booklet for alternately striking the bags and then soaking your hands in the herbal medicine.
How long does the course take to complete?
The course takes 100 days to complete, and you can take breaks during the course if you need to, and then resume it later.
What other equipment will I need?
You will need to set up a table with striking bags filled with sand or gravel; a large metal container for heating the herbal mixture, and a large plastic container with a lid, for storage.  A stopwatch for timing striking the bags is also useful.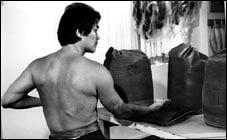 Why do I need to store the mixture in a plastic container?
The Iron Palm mixture will eventually eat through the metal if it is kept in the container for too long.
Is the Iron Palm herbal mixture safe?
Yes.  The mixture of ancient Chinese herbs will completely heal any bruising and/or swelling that may appear on your hands after striking the bags.  Your bone density will increase, and you will not be left with any scarring or calouses.
What results can I expect after completing the Iron Palm course?
You will find that your striking power will be greatly increased by up to five times.  You will be able to harness internal energy more efficiently.  Your striking focus and target penetration will also improve.  Many of our club members and most of our Instructors have used this course. 
Is the Iron Palm effect permanent?
After you have completed the course, you should train for just 10 days each year, to maintain your power.
How long does the Iron Palm mixture last?
The mixture will last for 4 years, in a sealed plastic container.  With use, the mixture will diminish and you will need to top it up with the correct proportions of wine and vinegar, as stated in the information booklet. 
What happens if I have questions while undertaking the course?
You are welcome to email us with your queries, and one of our friendly staff or Instructors will answer you personally.