In this hands-on workshop students will learn valuable life skills that can help them grow into confident and responsible citizens.  They will be taught awareness and preparedness, basic Traditional Wing Chun Kung Fu self defence techniques and strategies to get away from a potentially violent situation.
Recommended Year Levels: Primary School Levels 1-6 & Secondary School Levels Year 7-12
Cost: $40 (+GST) per student (includes Workshop and Chinese lunch at East Imperial Restaurant, Carlton)
Duration of Workshop: 1 hour (can be extended by pre-arrangement) 
Minimum 15, maximum 40 students per session.
 Accompanying teachers, support staff and parents may attend the workshop for free.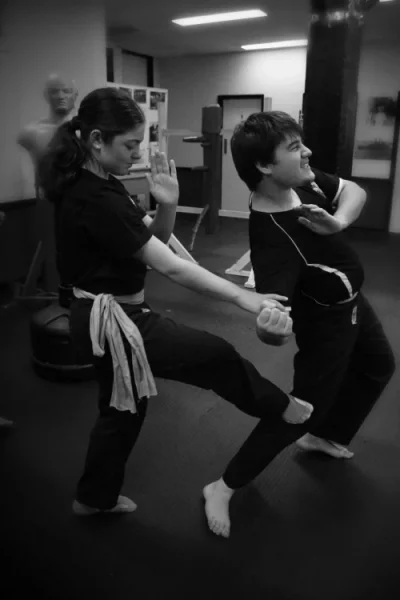 Wing Chun Kung Fu Self Defence
Our workshop is structured for school children and runs for one hour. The lesson includes self defence techniques from the Anti-Bully and Stranger Danger programs outlined below, a brief introduction to the benefits of Traditional Wing Chun and a talk about philosophy and the importance of discipline, and respect for oneself and others.
This program can be tailored to suit a school's individual requirements.  For bookings and further information, please telephone 0488 004 743 or contact us.
Anti-Bully and Stranger Danger
We also offer schools an 'Anti-Bully' Program, focusing on the 'be nice' principle. We teach children and teenagers to avoid conflict by treating others with respect and to (if confronted by a bully) control their anger and meet that conflict with calmness and without violence.
The program covers some very effective self-defence moves, with the emphasis that any form of violence must be used only defensively and always as a last resort.
Our 'Stranger Danger' Program teaches children and teenagers how to avoid and deal with unwelcome attention and contact with strangers. In both programs, students learn how to develop the following skills:
Focus

Teamwork

Control

Balance

Memory

Discipline

Fitness

Coordination
These programs can be conducted in as little as one hour during school hours, after school or in the holidays, and can be tailored to meet the needs of each school.
For bookings and further information, please telephone 0488 004 743 or contact us.